Is Development (dis)Ableist?
March 2 @ 1:00 pm

-

2:15 pm
Please note: there will be a British Sign Language (BSL) interpreter so that the event will be accessible to deaf people.
One billion people – 15% of the world population – live with physical and/or mental impairments. In 2018, UN Secretary-General Antonio Guterres admitted that 'people with disabilities are at a disadvantage regarding most Sustainable Development Goals.'
Overlapping obstacles of environmental, physical, social, economic and educational barriers actively steer people with disabilities away from opportunities and into lives of poverty and hunger. Public buildings and transportation systems are generally not designed for use by people with disabilities. Adults with disabilities are often denied sexual and reproductive health information and resources.. Women and girls with disabilities face increased risks of gender-based violence, and the very nature of invisible disabilities such as depression and chronic pain means resources are not adequately allocated nor accommodations made to ensure people with these conditions have their needs met. In some countries, particularly those already suffering 'tech poverty,'  there can be a gap of up to 30% in the usage of information and communications technology (ICT) between those with disabilities and those without.
People with disabilities are both agents and beneficiaries of global development. For development to be truly inclusive, development practitioners must ensure that everybody, particularly those with disabilities, have the same opportunities to participate in every aspect of life to the best of their abilities and desire. Are we doing that?
Join us on 2 March at 1pm to discuss whether global development is itself (dis)ableist. We'll be joined by activists and advocates from Sierra Leone and Indonesia.
About the Speakers: 
Abs Dumbuya is a Disability Rights Advocate, Technology Specialist and Inclusive Education (IE) expert with extensive knowledge of the Sierra Leone Persons with Disability (PWDs) Act 2011. He is passionate about disability issues. He is himself disabled and was brought up in institutional care in the Leonard Cheshire Home in Freetown, Sierra Leone. He is the Director of the Dorothy Springer Trust and Chairman of the Freetown Cheshire Home. He has collaborated with many disabled organisations to transform the lives of disabled people in Sierra Leone by preparing them for skilled employment through the provision of training in Information and Communication Technology so that they can participate more fully as equal members of society. He obtained his degrees from Loughborough University and London Business School and he is a Chartered Engineer with the UK Engineering Council. He writes on disability issues, has chaired numerous disability conferences and has won awards for his advocacy work on disability rights and reforms.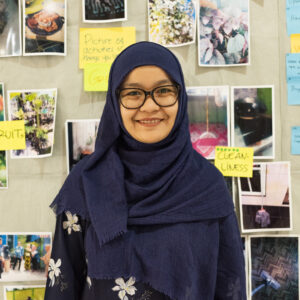 Nina Asterina is the Program Manager for Urban Inclusivity initiatives with Indonesia's Kota Kita Foundation. She has worked in more than 10 cities in Indonesia. As a researcher with expertise in urban and policy issues, she focuses on researching, developing, and implementing initiatives that promote more inclusivity in cities, such as participatory mapping, urban mobility, inclusive economy and disability-inclusive campaigns. She holds a Master's degree in International Development (Urban Development) from the University of Birmingham, having completed a Bachelor's degree in Public Policy at the University of Indonesia.
Twitter: @kotakitaorg
There will be time for discussion. Attendance is free, but registration*, via this link, is mandatory.
*By signing up for LIDC's event, you agree that we will collect your data and contact you for the purposes of the event only. Your personal information will be deleted after the event. You can email admin@lidc.ac.uk to cancel your registration and have your data deleted at any time.
Cost
£Free
Where
Online via Zoom: https://tinyurl.com/132oitjo


Contact
LIDC