Tackling the Rise of Childhood Stunting in Africa: High-level Parliamentary Roundtable

Written by Dhvani Sukhadia

July 11, 2019
On 3 July, LIDC and the All-Party Parliamentary Group for Africa (APPG for Africa) jointly held a high-level parliamentary roundtable on tackling the rise of child stunting in Africa. The event took place in the IPU room at the Houses of Parliament with over 40 participants. Pauline Latham OBE, MP and Vice-Chair of the APPG for Africa, was the Chair.
The roundtable discussion aimed to examine solutions to childhood stunting by bringing together a range of people including parliamentarians, leading researchers and policy makers working on child undernutrition. The meeting also gave an overview of the recently launched UKRI GCRF Action against Stunting Hub. This is a £19.76 million investment by the UK government to alleviate child stunting, globally. It is funded by UK Research and Innovation (UKRI) through the Global Challenges Research Fund (GCRF).
 Introduction to the UKRI GCRF Action against Stunting Hub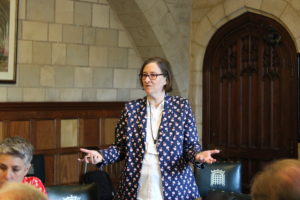 First, LIDC Centre Director and the Hub's Principal Investigator, Professor Claire Heffernan, outlined the research project. She began by speaking about child stunting around the world, commonly defined as low height for age. Professor Heffernan noted that there were over 150 million stunted children worldwide. She pointed out that stunting was not just a matter of linear growth. Affected children suffer significant cognitive effects with lifelong impacts on wellbeing. Despite political goodwill, Professor Heffernan emphasised that the international community was currently not on track to achieve Sustainable Development Goal 2.2, which aimed to reduce stunting by 40% by 2025.
In addition, Professor Heffernan explained the 'Whole Child' approach, which the Hub would use in its research. The 'Whole Child' approach aimed to move research on child undernutrition away from a focus on individual components of the problem. Instead, researchers would examine the social, biological, environmental, and behavioural contexts in which stunting arises. The Hub's research aimed to prevent and potentially reverse certain key features of stunting in children.
A typology of stunting
Our next speaker was Professor Paul Haggarty, Deputy Director of the Rowett Institute of Nutrition and Health at the University of Aberdeen. Professor Haggarty's presentation focused on the Hub's objective of creating a typology or different classifications of stunting. He explained that this work would involve exploring the relationship between different drivers of stunting including levels of sanitation, genetics and maternal health. Furthermore, Professor Haggarty affirmed that stunting triggered a fundamental change in the DNA structure of affected children. This means that stunting affects their physical features and mental state. In addition, he noted that each stunted child would have different symptoms. Finally, Professor Haggarty stated that capacity building in the affected countries was essential to reducing the prevalence of child stunting.
The need for multi-stakeholder involvement
Following this, Rose Ndulu Ndolo, Senior Nutrition Programme Adviser at World Vision UK, argued for the necessity of a multi-stakeholder approach to tackling the problem. She stressed that local government partnerships were crucial to address child stunting.  Moreover, Ndolo called on attendees to raise awareness of the problem with different groups in Africa and engage with the United Nations. She noted that child stunting could be difficult for parents to understand. However, gaining their support would be imperative to achieving the Hub's ambitious goals. Ndolo concluded her presentation by sharing her excitement about the work, and highlighted the need to forge close relationships with local NGOs. This was important, as NGOs played an important role in sharing relevant information from ongoing research with communities.
Discussion
After the three presentations, Pauline Latham presided over a lively discussion on the Hub's research. Our attendees asked questions on a variety of topics ranging from wasting and community pressures to practical outcomes. Many speakers emphasised the importance of targeting governments to bring about policy-level change.
Public Engagement
Last but definitely not least, Rachel Mason and David Price of Science Made Simple spoke about the Hub's public engagement work. Earlier in the morning, they had led two interactive activities with our guests. In the first, Price asked guests to measure his arm, and the second focused on hand shaking. Mason explained that the arm measuring activity was connected with the Hub's work on anthropometry. This focused on measuring children's changing height. The hand shaking activity aimed to show people how parasites and bacteria were transferred quickly. By using these fun activities, Mason and Price were able to help a wide range of people understand and engage with the Hub's complex research. In this way, public engagement would be an important tool to remove barriers between researchers and the general population. It would also help secure the full support of local communities with the research project.
Pauline Latham closed the event by thanking guests for their active participation and wishing the Hub well with its research. We are grateful to the APPG for Africa for their partnership on this high-level parliamentary roundtable and our participants for their strong engagement and enthusiasm.
You can follow the UKRI GCRF Action against Stunting Hub on Twitter and Facebook. 
Photos: Caitlin Pearson, Royal African Society.