The Leverhulme Centre for Integrative Research on Agriculture and Health (LCIRAH) is an interdisciplinary research group that represents four University of London colleges: London School of Hygiene and Tropical Medicine (LSHTM), Royal Veterinary College (RVC), School of Oriental and African ...
Read More

→
At LIDC, we're always on the lookout for the most interesting news, innovations and research in international development. Here's our pick of the latest developments to keep an eye on. 1) Gates Foundation launches new global education strategy On Friday ...
Read More

→
London International Development Centre (LIDC), a consortium of seven University of London institutions shaping the future of international development, today unveils a new logo, website and visual identity. LIDC connects researchers, students and development professionals to address global development challenges. ...
Read More

→
Sudanese-American slam poet Emi Mahmoud has supported UNHCR, the UN Refugee Agency's work and advocacy since 2016. Born in Khartoum, Sudan, before later moving to Yemen and the United States, Emi has used her talents and platform to raise awareness ...
Read More

→
Heidi J. Larson, PhD, is Director of the Vaccine Confidence Project at the London School of Hygiene & Tropical Medicine, where she is a Professor of Anthropology, Risk and Decision Science. Her particular research interest is the impact of rumours ...
Read More

→
Fieldwork comes with the territory in the international development profession. Some LIDC members have been working and living around the world for most of their lives. Others may have set off on their first foray into a remote community this summer. The anxieties that come with ...
Read More

→
This podcast explores antibiotic resistance and why is it a serious global threat. The World Health Organization has described antibiotic resistance as one of the biggest threats to global health and food security. It is estimated that at least 700,000 ...
Read More

→
This podcast explores the question of global mental health and why it deserves more attention. A quarter of the world's population will be affected by a mental disorder at some point in their lives (WHO), and in low and middle ...
Read More

→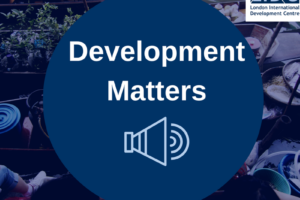 This episode, part of the LIDC podcast series  'Development Matters', looks at disability in development and how we can ensure that the needs of people with disabilities are met in global development. Development Matters is a monthly podcast series produced ...
Read More

→