At LIDC, we're always on the lookout for the most interesting news, innovations and research in international development. Here's our pick of the latest developments to keep an eye on. 1) Gates Foundation launches new global education strategy On Friday ...
Read More

→
London International Development Centre (LIDC), a consortium of seven University of London institutions shaping the future of international development, today unveils a new logo, website and visual identity. LIDC connects researchers, students and development professionals to address global development challenges. ...
Read More

→
Are you wondering why your news and social media feeds are today teeming with disheartening or, more hopefully, uplifting posts about refugees? Well, that's because today is World Refugee Day – a day designated by the United Nations "to commemorate ...
Read More

→
I need your advice on three questions. First, is international development becoming a middle class dominated profession? If so, does it matter? And if it does matter, what can be done to change the situation? My evidence of social bias ...
Read More

→
Since its launch in 2007, the London International Development Centre (LIDC) has grown in stature as an organisation fostering interdisciplinary research in international development. We're proud of initiatives such as the Innovative Metrics and Methods for Agriculture and Nutrition Actions ...
Read More

→
This podcast explores antibiotic resistance and why is it a serious global threat. The World Health Organization has described antibiotic resistance as one of the biggest threats to global health and food security. It is estimated that at least 700,000 ...
Read More

→
This podcast explores the question of global mental health and why it deserves more attention. A quarter of the world's population will be affected by a mental disorder at some point in their lives (WHO), and in low and middle ...
Read More

→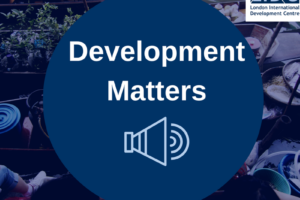 This episode, part of the LIDC podcast series  'Development Matters', looks at disability in development and how we can ensure that the needs of people with disabilities are met in global development. Development Matters is a monthly podcast series produced ...
Read More

→